[Click on cards to enlarge.]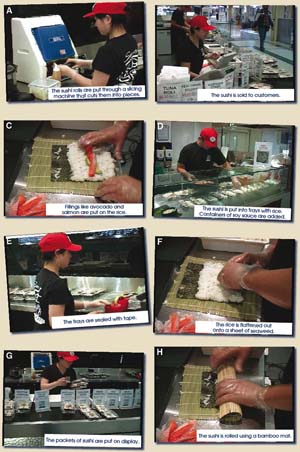 Questions/instructions:

This activity uses the computer.
Click the button that says Sushi.
[Video demonstrates sushi-making process; no voice-over; music only. Images on cards are stills taken from the video.]

1. Read the cards on making sushi.
2. Choose the four that you think show the main steps for making sushi.
3. Put the four cards in order so that they show how sushi is made.
4. Write the letter for each card in these boxes.
| | | | |
| --- | --- | --- | --- |
| | | | |
| 1st step | 2nd step | 3rd step | 4th step |