• Written language and spoken language achievement were significantly linked, with oral language providing immediate and useful clues to aspects of overall language mastery, and quality verbal interactions important for encouraging students' speaking and thinking skills.

• There was substantial variation in oral language performance across the sample at both year levels.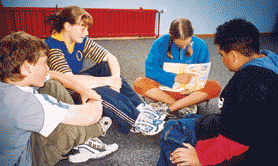 • Of the variables considered, school decile band was the only significant factor, with higher decile correlating with higher overall performance.
• Poor speakers appeared to lack knowledge of an "oral language tone". They were unable to use language to convey and clarify meaning, and could not give a developed reason for defending a point of view.
• Effective speakers tended to use speech for thought rather than simply for identifying and describing. They introduced new topics by using cognitive verbs like "wonder", "think", "guess", "suppose" and "believe".
• At both year levels, effective speakers used various devices such as coordinating conjunctions, made additional or connected comments and used veiled questions to sustain conversation.