• There were well-defined cluster groups, with some presenting excellence in mathematics (i.e., succeeding in the mathematics taught in the New Zealand Curriculum), and some having difficulties (not able to do the majority of the NEMP mathematics tasks).

• Most of the students in poorly performing cluster groups showed a good level of performance on number facts and a moderate level of performance on algorithms (subtraction being an exception). However, in problem-solving tasks involving more than procedural knowledge these students performed very poorly.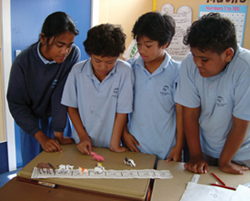 • For particular types of tasks, students were often located in well-defined cluster groups characterised by particular mathematical misunderstandings and difficulties. For example, there were three separate groups of students identifiable by their particular difficulties with placement of fractions, decimals or percentages.

• Amongst students in poorly performing clusters there was an impoverished 'drill and practice' understanding of what mathematics education entails. These students 'asked a teacher first', and they placed a higher emphasis on the knowing of mathematical facts and on doing teacher-set worksheets or working in their books.
• Ethnicity and school decile influenced the development of competence in school mathematics. Mäori students and/or students in low-decile schools were very over-represented in poorly performing cluster groups.